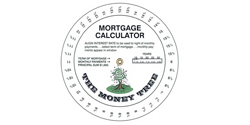 This custom printed Mortgage calculator features 6" x 2 7/8" x .010" jacket, .015" white vinyl plastic mortgage calculator insert. Jacket is standard design in reflex blue with white background. Rates are 4% - 8 1/2% (front) and 8 5/8% - 13% (back) in 1/8 increments.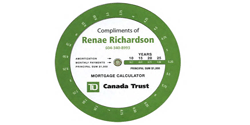 Imprinted Mortgage calculator, 4.5" dia. x .030". Target markets: Engineers, architects, construction companies, paving companies, banking and financial institutions. Need to add more to your order, check out the Catalog to see what else you may need.
Customized Stock mortgage calculator guide wheel calculates monthly loan payments easily. Customize it with color and YOUR logo and advertise your company easily.
You will most definately need some promotional profit wheels to go along with these mortgage calculators.
Promotional Slide calculator for mortgage payments. Printed on .015 white vinyl.
Two wheel .015 thick white gloss vinyl printed plastic mortgage payment calculator. Plastic calculator includes larger base wheel and smaller top wheel attached with brass grommet.
Have questions about our custom printed mortgage wheels? Maybe you don't see what you like, we have much more to offer. Give one of our friendly customer representatives a call at 800 915 3535. Send us an inquiry email. You could also get one of our catalogs to see the various items we offer.
Custom Mortgage Calculator Wheels
MORTGAGE PAYMENT CALCULATOR
Any custom imprint on .15 white gloss vinyl plastic. Larger base wheel and smaller rotating top wheel attached with brass grommet. Free electronic proof when your file & hard copy supplied to our specifications. SCREEN PRINTED at 76 lpi, copy changes available on quotation. Back imprint add $35 plus additional color charge. 1 custom PMS color included on both pieces, any bleed edge.
4.25" Mortgage Payment Calculator
Pricing
250
500
1000
2500
5000
$2.89
$1.89
$1.29
$0.99
$0.79
6" Mortgage Payment Calculator
Pricing
250
500
1000
2500
5000
$2.99
$2.09
$1.59
$1.25
$1.09
FOUR COLOR PROCESS
High-resolution digital print, clear varnish included. Copy or design changes in multiples of 125 add $39 each. True color pre-press proof (recommended) add $60
4.25" Mortgage Payment Calculator
Pricing
250
500
1000
2500
5000
$3.59
$2.39
$1.69
$1.29
$1.09
6" Mortgage Payment Calculator
Pricing
250
500
1000
2500
5000
$3.99
$2.99
$2.39
$1.89
$1.69