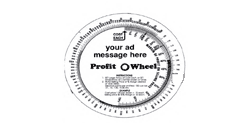 Great for: Banks, Retail, Realty, Manufacturing, Graphics supply, Doctors and Nurses. Both functional and promotional, calculate prices and profits with ease.
Customized white plastic dial for calculating profit margins, 4" dia. on outer disc, .020" thick, gloss finish.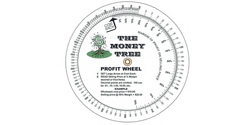 Great for banks, retail, realty, manufacturing graphics supply and many other industrial applications.
Not what you are looking for? Get our Catalog to see what else we got.
Promotional profit calculation wheel, 6.25 dia. x .030".
Target markets: Engineers, architects, construction companies, paving companies, banking and financial institutions.
Purchase some mortgage calculators to match these profit wheels.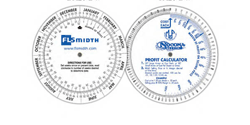 Printed profit calculator double wheel dial chart with 3.33" dia. wheel eyeleted to a 4" dia. wheel. White plastic vinyl.
Have questions about our custom printed profit wheel ? Maybe you don't see what you like, we have much more to offer. Give one of our friendly customer representatives a call at 800 915 3535. You can also email us. You could also get one of our catalogs to see the various items we offer.
Custom Profit Wheels
PROFIT MARKUP CALCULATOR
Any custom imprint on .15 white gloss vinyl plastic. Larger base wheel and smaller rotating top wheel attached with brass grommet. Free electronic proof when your file & hard copy supplied to our specifications. SCREEN PRINTED at 76 lpi, copy changes available on quotation. Back imprint add $35 plus additional color charge. 1 custom PMS color included on both pieces, any bleed edge.
4.25" Profit Markup Calculator
Pricing
250
500
1000
2500
5000
$2.89
$1.89
$1.29
$0.99
$0.79
6" Profit Markup Calculator
Pricing
250
500
1000
2500
5000
$2.99
$2.09
$1.59
$1.25
$1.09
FOUR COLOR PROCESS
High-resolution digital print, clear varnish included. Copy or design changes in multiples of 125 add $39 each. True color pre-press proof (recommended) add $60
4.25" Profit Markup Calculator
Pricing
250
500
1000
2500
5000
$3.59
$2.39
$1.69
$1.29
$1.09
6" Profit Markup Calculator
Pricing
250
500
1000
2500
5000
$3.99
$2.99
$2.39
$1.89
$1.69